Euro Auto Center was created to provide superior auto service and auto repair. Our ASE certified mechanics and technicians use the latest technology and stay up to date on the most important trends in the automotive business. The result is that you get the best auto service for your dollar.
What we do for you
In addition to working with on your vehicle we go the extra mile to help make the process as worry free and convenient as possible.
24 month / 24.000 mile warranty on all services - This covers both; parts and labor
Early drop off and late pickup when you schedule doesn't match ours. Ask your service advisor for more details
Rental Car. We maintain relationships with several major car rental companies, and will be happy to make the arrangements at your request
Put your mind at ease
Our service advisors are very knowledgeable and will recommend the best solution to keep you vehicle in top running condition. You will be advised on what service need to be performed now, and what can be put off for a future visit. No work is done without your prior approval.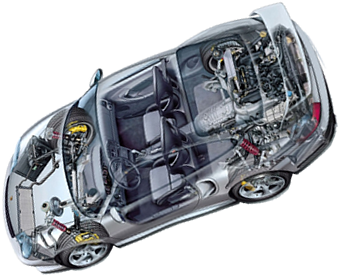 What we do for your vehicle
Euro Auto Center professional staff has been trained to offer the following expert services for most passenger, sports, luxury and SUVs.
Scheduled Maintenance
Scheduled maintenance is a set of predetermined tasks specified by the manufacture. These maintenance intervals should be done based on your vehicle mileage or by an indicator on your dashboard
Preventive Maintenance
Oil Change & Filter Service
Tune Up
Fluid and Filter changes
Vehicle Inspection
Tire Rotation
Diagnostics
Check Engine Light
Computer, PCM, ECM, BCM Systems
Emissions Control System
Brake and Antilock Brake System
Performance & Drivability
Airbag Systems
Electirical
Starter, Battery Alternator
Instrumentation, Dash, Gauges
Power Windows, Wipers, Door Locks and other accessories
Indicators, Turn Signals, Headlamps, etc.
Repair Services
Heating & Air Conditioning systems
Driveline - Transmission, Transfer Case, Drive Shafts
Differentials & Axles
Steering, Suspensions, Wheel Bearings, Hubs
ABS, Disc, Drum and parking Brakes
Engine - Spark Plugs, Fuel and Air Filters, Fuel Injectors
Cooling Systems - Radiator, Water Pump, hoses, Thermostats
© Copyright - Euro Auto Center 2015
Website by JBegic